Euless Garbage Disposal Plumbers
Garbage disposal service is something else you can always expect from our guys over here at Euless plumbers. When your have a waste unit that doesn't work in the way it's supposed to, we understand the frustration behind your emotions. However, keep your cool and get our Texas plumbing team on your side.
Garbage Disposal Support For Each And Every Customer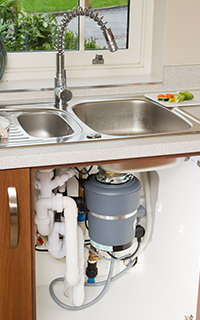 Is your garbage disposal clogged? These are very powerful appliance that you can usually trust, but they're not always going to operate perfectly. When this happens, make sure you let our plumbers use our snakes to carefully unplug your waste unit. Do-it-yourself methods could lead to more damage!
If your garbage disposal is leaking, we can fix that, too! We know that Texans hate having to put up with moldy undercarriages that lie beneath their sinks. If your waste unit has caused dripping of waters to infiltrate your storage space, we'll get to the bottom of it and repair the problem at hand.
We'll Keep Your Disposals In Check
Think it's time to replace garbage disposal? If you think you're ready to renovate your sinks to ensure you won't have to deal with other problems, we don't have any issue with that. Let us know after you've picked the the appliance of your dreams and we'll swing by and install it for you!
Euless Plumbers know that Texans expect the best out of us consistently, and with our timely plumbers always being up for the challenge, we think you'll have a great time with our services. For more information on all the things we can do for you, be sure to call up our reps to get your appointment locked in!